"Earthquake and PostEarthquake Fire Testing of a Full-scale 5-story Building outfitted with Nonstructural Components on the World's Largest Outdoor Shake Table"
Presentation to EERI Southern California San Diego Chapter
Tara C. Hutchinson, Professor
University of California, San Diego
Download Presentation:
2012-11-14 Earthquake and Post-Earthquake Fire Testing of a Full Scale 5-story Building
"ANALYSIS, DESIGN AND TESTING OF PILE FOUNDATIONS"
Instructor:           Prof. Bengt Fellenius
Date:                     Friday, March 30, 2012
Program:             8:00 am – 5:00 pm
Venue:                 Grand Pacific Palisades Resort & Hotel (http://www.grandpacificpalisades.com/)
                                5805 Armada Dr., Carlsbad, CA 92008
Content:              All lectures will incorporate illustrating case histories
1)      Settlement analysis and accelerating settlement with wick drains
Principles of Effective stress, Stress distribution, Compressibility, and Settlement. Principles of radial consolidation and applications of wick drains to improve settlement conditions and mitigate lateral flow.
2)      Analysis of load transfer and capacity of piles
Bearing capacity and load-transfer by effective stress and total stress methods; Set-up and relaxation; Capacity from CPT and CPTU and other in-situ methods.
3)      The static loading test
Methods of testing, Determining capacity, Analysis of strain-gage instrumentation, Residual load, Separating shaft and toe resistances, Determining load distribution, The O-cell test.
4)      Design of pile foundations
Factor of safety, and rules of LRFD and Limit States Design,  Negative skin friction, drag load, and downdrag,  Settlement of single piles and pile groups due to load directly on the piles and due to influence from adjacent activity (downdrag);  Brief reference to Canadian, US, and European Codes.
Registration fees: Fee includes lunch, refreshments for morning and afternoon breaks, and notebook of lecture notes.
Members of EERI, ASCE Geotech (Geo-Institute San Diego), and DFI: $ 225
Non-Members: $ 300
Students: $ 125
7 Professional Development Hours available.
Register online at https://www.eeri.org/registration/register.php
Sponsors: Hayward Baker Geotechnical Construction http://www.haywardbaker.com/
Instructor Bio: Dr. Bengt H. Fellenius, formerly Professor of Civil Engineering at the University of Ottawa, is an internationally recognized foundation engineering consultant and the author of more than 300 technical papers.  His professional experience comes from a wide variety of assignments that encompass foundation design for industrial plants, water and sewage treatment facilities, bridges and highway projects, marine structures, and urban area development, as well as participation in special investigations, instrumented field tests, etc.  Dr. Fellenius has given lectures and courses to several universities and international conferences throughout America, Europe, and South-East Asia.  He currently lives in Sidney, BC, Canada.
A special thanks to our guests Dr. Moehle and Dr. Stewart, our sponsors, and all the attendees who made this meeting a success.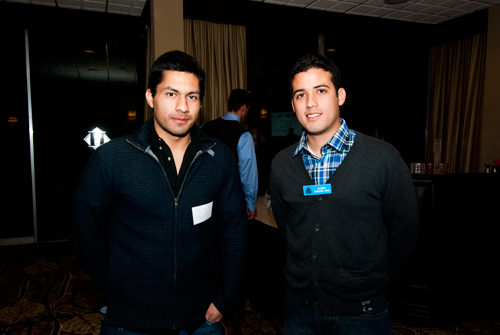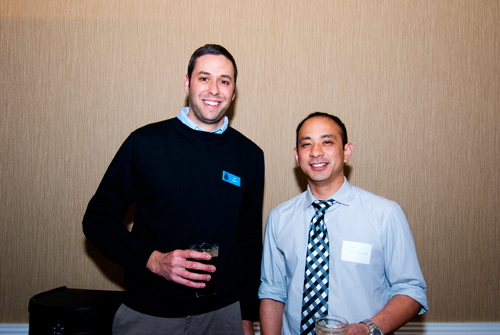 Seismic Demands for High-Rise Buildings: Interaction between Geotechnical and Structural Engineers
Wednesday, January 18, 2012
Guest Speakers:
Prof. Jack Moehle (Univerity of California Berkeley)
Prof. Jonathan Stewart (University of California Los Angeles)
Performance-based seismic design of tall buildings has evolved in recent years to permit buildings designed outside the prescriptive provisions of the building code. A performance-designed project typically requires definition of performance objectives, development of the structural system, definition of seismic hazard, and verification of seismic performance using nonlinear dynamic analysis. One of the challenges to be overcome in design is the communication of modeling and analysis requirements between structural and geotechnical engineers. The seminar will emphasize the required handoffs.
Dr. Moehle will introduce the recently published PEER Tall Buildings Initiative for Performance-Based Seismic Design of Tall Buildings. The presentation will cover team qualifications, performance objectives, modeling and analysis requirements, performance evaluation, and the review process. The presentation also will review typical handoffs between structural and geotechnical engineers, including typical assumptions for soil-foundation-structure modeling and selection and scaling of earthquake ground motions. Emphasis will be on requirements from the perspective of the structural engineer.
Dr. Stewart will review outcomes of a recent ATC/NIST project on modeling seismic Soil-Structure Interaction (SSI) effects for building structures, with an emphasis on applications to tall buildings. The conditions under which SSI effects are most pronounced will be identified. The basis for the SSI procedures in the PEER Tall Buildings project will be reviewed. Typical problems encountered in the communications between structural and geotechnical engineers for SSI problems will be described along with proposed solutions proposed within the ATC/NIST project.
Welcome to the EERI San Diego regional chapter website.  Here you will find newsletters for upcoming meetings, announcements of community activities, and information about our organization.  Thanks for visiting!