EERI San Diego Chapter Webinar Series
EERI STUDENT OUTREACH EVENT: A HIGH SCHOOL STUDENT'S DEVELOPMENT OF A LOW-COST SEISMOMETER
Thursday, November 18th, 2021
4:00pm-5:00pm PST
Zoom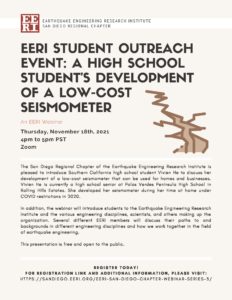 The San Diego Regional Chapter of the Earthquake Engineering Research Institute is pleased to introduce Southern California high school student Vivien He to to discuss her development of a low-cost seismometer that can be used for homes and businesses. Vivien He is currently a high school senior at Palos Verdes Peninsula High School in Rolling Hills Estates. She developed her seismometer during her time at home under COVID restrictions in 2020. In addition, the webinar will introduce students to the Earthquake Engineering Research Institute and the various engineering disciplines, scientists, and others making up the organization. Several different EERI members will discuss their paths to and backgrounds in different engineering disciplines and how we work together in the field of earthquake engineering.
This presentation is free and open to the public. You may click the image on the right to view the event flyer.
REGISTRATION
Click here to register for the webinar. After registering, you will receive a confirmation email containing information about joining the meeting.
PROGRAM

EERI Introductions and Announcements
4:00pm-4:10pm
"Working in Earthquake Engineering"
EERI Team Member Discussion
4:10pm-4:30pm
"Development of a Low-Cost Seismometer"
Vivien He
4:30pm-4:50pm
Q&A
4:50pm-5:00pm