ASCE EERI Joint Luncheon 2023

WHAT'S NEW IN THE SEISMIC PERFORMANCE OF NONSTRUCTURAL COMPONENTS?
Tuesday, September 26th, 2023
11:30am-1:30pm
Stone Brewing Liberty Station
2816 Historic Decatur Road, Unit 116
San Diego, CA 92106
ASCE San Diego Section is co-hosting their September Lunch Program with EERI, featuring guest speakers Dr. Gloria Faraone, Assistant Professor at SDSU, and Dr. Roberto Nascimbene, Associate Professor at IUSS Pavia. The luncheon will review damage of non-structural elements from various international earthquakes, as well as results of post-installed anchors undergoing testing at UCSD.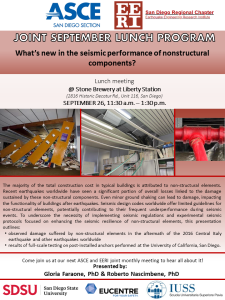 For members of EERI and ASCE = $45.00
For non-members = $55.00
For public agency workers = $30.00
For more information, click the image to the right to view the event flyer.
REGISTRATION
Click here to register for the luncheon.
Registration is required as no walk-ins will be allowed.